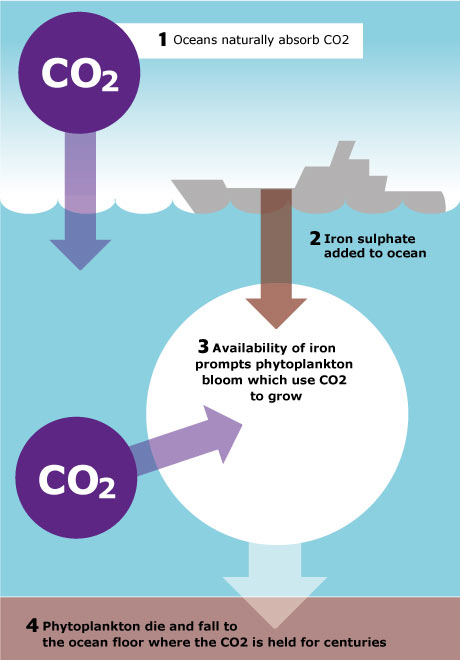 Dumping iron into the sea can bury carbon dioxide for centuries, potentially helping reduce the impact of climate change, according to a major new study. The work shows for the first time that much of the algae that blooms when iron filings are added dies and falls into the deep ocean.
Prof Victor Smetacek, at the Alfred Wegener Institute for Polar and Marine Research in Germany, who led the new research, said: "The time has come to differentiate: some geoengineering techniques are more dangerous than others. Doing nothing is probably the worst option."
Prof John Shepherd, chair of the report, said: "It is important that we continue to research these technologies but governance of this research is vital to protect the oceans, wider environment and public interests."
How daes it work? Smetacek's team added seven tonnes of iron sulphate to the ocean near Antarctica, where iron levels are extremely low. The addition of the missing nutrient prompted a massive bloom of phytoplankton to begin growing within a week. As the phytoplankton, mostly species of diatom, began to die after three weeks, they sank towards the ocean floor, taking the carbon they had incorporated with them.
To continue reading please click on the picture
---
---
Categories: CO2, Environmental news, Geoengineering